Tofino
Overview
Byres Security Inc. provides practical and effective industrial network security and SCADA security products that are simple to implement and that do not require plant shutdowns.
Our flagship product, the Tofino™ Industrial Security Solution, combines security appliances with loadable software modules to protect industrial networks from external cyber threats and internal network incidents. Tofino Security is used by the process control, SCADA, manufacturing and automation industries.
Frost & Sullivan recognized Tofino Security with its 2010 World Customer Value Enhancement Award, which annually honors the product that best enhances customer value in the industrial automation and electronics industries.
Security For SCADA and Industrial Process Control Systems
What is the Tofino Industrial Security Solution?
A system that protects industrial networks, SCADA systems and process control facilities from external cyber threats and internal network incidents
The system consists of one or more security appliances that are configured with firewall software and other optional modules
It protects groups of PLCs, DCS, RTUs, and HMIs that have similar security needs
Unlike IT firewalls, Tofino is:
Implemented without plant downtime
Industrially hardened
Easy to configure by control engineers
Certified and approved by industrial automation vendors and standards groups
Effective in securing industrial protocols such as Modbus TCP and OPC Classic
A solution for meeting and exceeding NERC CIP, ANSI/ISA-99 and IEC 62443 standards
Products
The Tofino Industrial Security Solution is a distributed network security solution that is managed from a central location. This flexible architecture allows you to create security zones – Zone Level Security™ (as recommended in ANSI/ISA-99 standards) - throughout your control network to protect critical system components.  Monitoring and management is easy, using one centralized software program.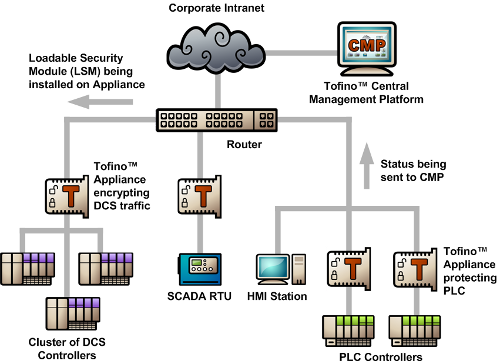 Key components
The Tofino Industrial Security Solution consists of three main product components:
| | |
| --- | --- |
| | Zone Level Security for your control network. |
| | Firmware modules that customize the security features on Tofino Security Appliances. |
| | Configure and manage security for your entire control network from one place. |
Industrial strength security
IT engineers, security experts, and most of the major equipment vendors such as Honeywell, Yokogawa, ABB and others have advocated Defense in Depth strategies for years.
So why are the vast majority of control networks still not protected?
The answer is simple: existing security products were designed for the needs of IT personnel and enterprise applications, not for industrial control systems.
24 x 7 operation
Control networks routinely run 24 hours per day, 7 days per week, for months or years at a time.  Shutting them down even for a few minutes can have serious cost and safety impacts. IT-focused security products require that the network must be shut down for installation, configuration and updates.
Tofino can be installed, configured and even updated with no interruption to network traffic.
Harsh operating environments
Products designed for industrial applications must be specially engineered to handle harsh operating conditions, including wide ambient temperature ranges and high levels of electrical and radio-frequency interference.
IT-focused security products are intended for an office environment, and are just not designed to operate in an industrial setting.

Some of its advanced features include:
Class I, Div 2 certification for hazardous environments
Operating temperature range -40/+70 degrees C
Dual redundant power supply inputs
MTBF greater than 27 years
Tofino was engineered from the ground up to perform in harsh conditions.
Explicit support for industrial controllers and protocols
Traditional security products have no support for industrial communications protocols. Tofino has pre-configured functionality for immediate productivity:
Templates for over 25 popular families of industrial controllers and over 50 communication protocols
Tofino is the world's first network security product to implement content inspection technology for industrial protocols.
Tailored to the needs and capabilities of control system engineers
Ease of use is critical to ensuring real security. The tremendous flexibility required for enterprise applications makes IT-focused security products extremely cumbersome and difficult to use, even for experts.
Tofino is focused specifically on securing industrial networks, with the needs and capabilities of industrial users in mind. It's simple for control engineers to set up their security configuration, using concepts and terminology they already know.
Tofino is the solution
Tofino protects better, it's easier to install, easier to use, and there's no down time.
Learn more about the components of the Tofino Industrial Security Solution: